Best Production Pros from the Southeast
There are so many amazing production pros in the Southeast, it was hard for us to pick who we thought had that extra star-studded quality! Luckily, we found three pretty amazing candidates that fit the bill perfectly. Learn from these pros on what it takes to become a production heavy hitter, with some pretty impressive gigs and even more impressive client list.

Photographer: Cy Cyr
"I work with business people, athletes and celebrities. I have a bold and colorful style. My end goal is for the viewer to connect with the intense expressions from my subjects."
Learn what piece of equipment Cy can't live without, along with tips and advice on what it takes to build a pristine reputation in the industry, and a never ending list of clientele. The Southeast seems to be Cy's photographic playing field, and he doesn't seem to be stopping anytime soon.
Clients include: ESPN the Magazine, Mercedes, RollingStone Magazine, Scholastic, Dove Men + Care, Disney & many others.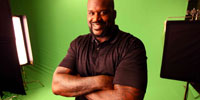 Above images courtesy of Cy Cyr
Underwater Cinematography: Jill Heinerth
Hollywood filmmakers, including Lakeshore Productions (The Cave) and James Cameron, have called on Jill to produce challenging underwater scenes, along with many other production companies looking for the best underwater professional known to get the job done. Jill has been highlighted in numerous publications such as National Geographic Magazine, the New York Post, Wired Magazine & Sport's Illustrated Women to name a few. It's no wonder she is the "Go-to Girl" of the Southeast!
Get to know Jill's near production death experience, along with how she fell in love with underwater cinematography and what she prides herself most on while doing it.

Above images courtesy of Jill Heinerth


Time-Lapse Cinematographer: Daniel Lowe
Lowe is a time-lapse cinematographer whose love for nature is never-ending. Featured on the National Geographic blog, Gizmodo, PetaPixel, Discovery Magazine and many more, Lowe's patience and love for time-lapsing is one to take note of. Learn where Daniel finds inspiration, and what advice he would give to those trying to get into the world of time-lapse cinematography & beyond.

Above image courtesy of Daniel Lowe
Training Seminars & Workshops For Industry Pros
Need to brush up on some skills, or learn the latest tricks of the trade? Any pro in the industry would advise to constantly keep your skills and knowledge in the production world up to date, and so do we. Whether you are an up and coming cinematographer or seasoned vet, making sure to attend a few of the below Training Seminars and Workshops is a great start to stay sharp & on top of your game:
Hollywood Shorts: Getting the Best Image from your Camera
Solar Productions: RED Epic Camera 2-Day Intensive Workshop