Depending on your production needs, finding the right location can be a challenge — especially, when things like aesthetic, budget, and client come into play. And because every shoot is unique, access to enough options that meet your needs. Every month we'll share our favorite new Peerspace locations for your production shoots. From roof top terraces to sunlit studios, check out the best new spaces for July and get shooting.
Ukrainian Village Artistic Loft
Location: West Town, Chicago
The loft is great for filming and shooting lifestyle and equipped to set up a seamless. And has amazing natural light all day. Bright, open space. Light-filled and spacious with 14-foot ceilings, 1200 square feet, and exposed brick.
Location: Bushwick, New York
Located in Brooklyn's hip and artsy neighborhood of Bushwick, this funky loft is a four bedroom artist's dream. The space also features a vintage cherry wallpaper accent wall, 1950's Coca Cola refrigerator, green velvet vintage couch, and one-of-a-kind vintage furniture and props.
Location: Financial District, San Francisco
Travel back in time by stepping foot into our sophisticated art deco lounge. Plush leather tufted couches, exposed brick and gold foiled wall paper create a stunning backdrop for your next photoshoot or production.
Location: Williamsburg, New York
This converted church loft is bathed in light from massive windows. It's bright, spacious, and warm... an experience unto itself. It's artfully-decorated and carefully curated. Some of the features include: a plant-filled living area, high ceilings, ancient church beams, and exposed brick.
Sunny Carroll Gardens Townhouse
Location: Kings County, New York
This newly renovated townhouse is ideal for photo or film shoots. There's a roof terrace with views of the city and an open kitchen layout all with plenty of sunlight, eye catching wall paper, and modern furnishings.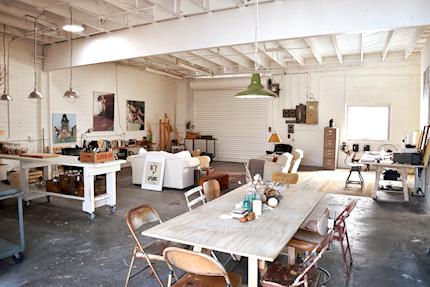 Location: Echo Park, Los Angeles
This showroom has been designed by an artist for artists and creatives. Every piece of furniture is easy to move, either light or on wheels and the whole space is flexible. You can clear it up or keep it as is for your enjoyment.
Converted Industrial Warehouse
Location: Fremont, Seattle
With twenty foot ceilings, this room is spacious and versatile with many different shooting options. It comes complete with a cozy living room, a wooden table that seats fifteen, and a full kitchen with up-to-date appliances.
Location: Central LA, Los Angeles
Located in the heart of Hollywood, this expansive Outpost Estates Compound feels just like a Spanish Villa. The grand entrance leads you into the completely custom Spanish home, where you'll find 5 large bedrooms and 4.5 bathrooms.
Location: Queens County, New York
This 1,500 square foot photo studio is located in bustling Long Island City, minutes from Manhattan. Some amenities include but are not limited to 1,500 of open space, 12.5' ceilings, full cyclorama, and a killer roof access.
Location: Santa Monica, Los Angeles
This modern Getty inspired treat of a house is a wonderful filming and shoot location. If you want a quiet spot with plenty of natural light and high spec luxury features, this is the spot for you.