The Bigger Picture
Is this not a great business to be in? Hard to believe not to long ago that the 2017 NAB was wrapping up. Officially, the National Association of Broadcasters tabbed the attendance at 103,443. Which after twenty something NAB shows sounds and feels about right. But before we get into some of the cool new products we looked at, some perspective and analysis is definitely in order.
First, in a serious nod to the National Association of Broadcasters, they (NAB) has really embraced that our industry has and continues to rapidly evolving into so many new forms of content creation and delivery. Yes, I know it sounds cliché', but oh so true. It is a new, eager, hungrier, and younger industry. Lots of younger production professionals ready to step out and step up. There was so much energy on the floor this year. For example, if you told me a scant few years ago that Internet giants Amazon and Netflix would be in the movie and television business in a big way, I might have looked at you kind a sideways. Not so much now you think? So much new production! Don't think that broadcasters haven't noticed the shift? Sure they have, with smart management and smart buying decisions to hit that upgrade switch at the individual and group station level.
So, that being said, manufacturers have also been paying closer attention too. Better and more responsive customer service is always a plus, especially when you are on location. There is also a new understanding that content creators (you and me) have a lot more choices in production gear, which is always cool when it comes to matching up gear with your vision. Good solid production values that lead to outstanding content won't ever change. But how we are getting to that high level of content value has and continues to unfold. Let's take a look at some of the game changers along with a few surprises from 2017 NAB.
Flyn' Right Out of the Gate
Fantastic imaging always starts with the lens. The sheer amount of new lens options was overwhelming this year. Which is great if you are a shooter until you have to choose! Pretty sure whatever look you wanted to create you could find. If I had my own way I would be shooting on all of these right now! Oh yeah, one other important note. All of these lens groups are solid choices. You just have to figure out which ones you are going to sink your teeth into!
Band Pro (together with partners Angénieux and Jebsen Industrial) debuted the new Angénieux Type EZ-2 Zoom at this year's NAB show. The Type EZ Series has enjoyed a hugely positive reception. Type EZ-2, the newest addition to the series, is a wide zoom lens providing 15-40mm F1.9 / T2 in S35 format. The same lens is configurable to 22-60mm F2.8 / T3 covering an image circle up to 46mm diagonal for full format cinematography. Likewise, Type EZ-1 features focal range and aperture of 30-90mm F1.9 / T2 in S35 format, and converts to a 45-135mm F2.8 / T3 covering an image circle up to 46mm diagonal. The Type EZ Series lenses are available in the Americas through Band Pro in Europe, the Middle East and Africa through Angénieux; and in Asia through Jebsen Industrial.
Ok, I know, I just finished singing the praises of the Angenieux but hey, I am like the kid in the candy store, and I want this chocolate too! I mean, It's Leica for crying out loud. Yet another beautiful set of lens for the shooter who wants a clean beautiful look. Not softer than the Zeiss or Cooke set(s) per say but different.
The new Leica M 0.8 lenses brings that classic look to a variety of professional cine cameras. The Leica M 0.8 lenses retain all the classic image characteristics of the regular Leica M lenses, but feature a smooth iris rotation and larger 0.8 module / 32 pitch gear rings for focus and iris. CW selected 5 lenses for this series, choosing the fastest in each focal length. They include: 21mm f/1.4, 24mm f/1.4, 28mm f/1.4, 35mm f/1.4 and the 50mm f/0.95 Noctilux. Redesigned mechanics allow them to work seamlessly with traditional cine accessories.
The new lens offers a similar range of functions as its sibling model, making it well suited for documentary, cinema, news, or other production. I think this is a great intermediate lens for shooters who need the flex of a zoom and want higher optical tolerances than what they had before. Compact-Servo Lens, a 70-200mm model with the same attributes as the Canon Compact-Servo 18-80mm T4.4 EF Lens, which was introduced last year. It has the same size and weight of its wide-tele zoom sibling, the 70-200mm T4.4 EF is designed for cinematographers moving up from Canon EF lenses and DSLRs to dedicated Canon Cine cameras such as the Canon EOS C100. A really good versatile choice for shooters who need to step up their game but haven't quite got to that next level yet.
Cooke Optics S7/i Full Frame Plus Set of Primes
There is no way any discussion of lens would be complete without bringing in the name Cooke. I haven't met anyonethat would turn down the opportunity to shoot with a Cooke lens. No, really. That said, Cooke brings new lens to the show with the new S7/i primes that are specifically tailored towards larger full frame cinema camera sensors covering the full sensor area (46.31mm image circle) of the RED Weapon 8K.
The new lens lineup will be available in 18, 25, 32, 40, 50, 75, 100 and 135mm and is scheduled to ship in June 2017. All Cooke S7/i Primes have a consistent T2.0 aperture throughout the whole range and cover 35/Super 35mm, Full Frame and beyond.
Ok, I promise no more lens for now (really) but expect the remainder of 2017 to be a very busy year in this area. Moving on to some of the other game changers:
Blackmagic Design DaVinci Resolve 14 Plus Fairlight
A potent one-two punch. I think Blackmagic Design shines pretty brightly with DaVinci Resolve 14 and the integration of legendary Fairlight Audio. My opinion? Blackmagic Design has made a very real statement that they want DaVinci Resolve 14 to become the defacto postproduction everything of choice and the addition of Fairlight certainly adds to that argument.
Check this out. Legendary Fairlight audio is now fully built into the DaVinci Resolve 14 application itself. Professional audio tools for recording, editing and sweetening, professional bussing, mixing and routing, and multi format mastering to 3D audio formats such as 5.1, 7.1, Dolby and even 22.2. The state of the art, super low latency audio engine is designed to work with 192kHz 96-bit audio and delivers up to 1,000 tracks with real time EQ, dynamics processing and plug-ins on every track when used with the Fairlight Audio Accelerator. Plus the new Fairlight audio can record up to 96 channels while simultaneously playing back up to 150 audio channels, while mixing it all in real time.
Every channel on the mixer features real time 6 band parametric EQ, along with expander/gate, compressor and limiter dynamics. Clip time warping lets customers stretch or compress audio without shifting pitch. In addition, every single parameter can be automated, even VST plug ins, using a variety of automation modes.
In addition to audio editing, sweetening, and mixing, Fairlight audio in DaVinci Resolve 14 also includes multi channel recording tools that are far superior to those found in most editing systems. Customers can record voice overs or entire symphony orchestras while also monitoring video and multiple channels of dialog and sound effects.
Given the fact that our industry is again in the middle of some big changes (isn't it always?) The AJA FS-HDR, is might be the right place right time product of the show. A 1RU, rack-mount, universal converter/frame synchronizer, is designed specifically to meet the HDR (High Dynamic Range) and WCG (Wide Color Gamut) needs of broadcast, OTT, post and live event AV environments, where real time, low-latency processing and color fidelity is required for 4K/UltraHD and 2K/HD workflows.
Cameras
Gotta love those Sony guys. (and gals) Thought there were some very interesting developments out of the Sony camp. First off the much lauded Sony FS7 II continues to pull in a lot of shooters who love Sony, but still wanted more. With the FS7 II Sony said hey we are listening. The new Lever Lock Type E Mount was a clever addition. If you are a shooter and want to know for sure the (very expensive) lens is not going to fall off or work its way loose you will love hearing the solid click when the lever lock is engaged. Are there not enough things to worry about on a shoot already? Additionally, preset NDs and electronic ND filters mean you have more control. An improved viewfinder and the telescoping arm will make shooting days a little less strenuous. Lastly, I need to get my hands on the new lens offering the Super35 APS-C SEL8110G 18-110. I know I said no more lens. Can't help it!
Shooters got to hear some good news out of the Canon camp. The flagship camera in Canon's Cinema EOS lineup, the C700 camera boasts a Super 35mm 4.5K sensor and 15 stops of dynamic range.
For those looking to capture a cinematic look in a more compact form, the EOS 5D Mark IV was shown for the first time with the newly announced Canon Log feature upgrade. This upgrade will allow footage from the EOS 5D Mark IV to be matched with Cinema EOS footage, making for a solid "second" camera choice.
Panasonic did tease with the announcement that they will unveil a new camera in the Varicam family at CineGear. If I had to take an educated guess I think it is going to sit down in the mid range with some of the top of the range Varicam features, but with a smaller footprint and a more modest price point. There was ARRI going wireless with the Alexa SXT W. In a move that will increase efficiency on set, ARRI has integrated a high quality and low-latency HD video transmitter and WiFi into the new ALEXA SXT W model ("W" for Wireless). Based on the popular ALEXA SXT Plus, the SXT W will replace the SXT Plus and Studio models. As always, there are upgrade options for existing owners of ALEXA SXT EV and ALEXA SXT Plus cameras. What a great idea. When I talked to shooters about going wireless with an ALEXA they were ecstatic. The options of wireless combined with the ALEXA will make for a powerful shooting combination. This is a big deal for shooters that have always want to shoot an Arri Alexa but held off because they needed a wireless solution. Well their wait it over. The other side of the camera world in VR was an interesting place to go. Google came out swinging with their Google Yi Halo camera as big as it is expensive. The other more moderately priced options in this space include the Nokia OSO and the insta360 rounding out the pack. That's about it for cameras. Now on to some of the really cool other stuff at the show.
Let's talk Ronin 2 from DJi. The new, beefier Ronin 2 was on display in full force at NAB 2017. Ronin 2 features a redesigned carbon fiber monocoque style frame. New foldaway feet enable the operator to set the platform down during handheld filming without the need for a separate stand. Ronin 2 also has a splash-proof enclosed motor design with internally routed power, SDI and data cabling. Integrated power and data ports make Ronin 2 a centralized system for cameras and all accessories without the need for multiple power systems. It features four 14.4-volt (8 amps total) ports near the camera cage, two 12.6-volt (4 amps total) ports near the pan motor and one P-Tap 12.6-volt (4 amps) outlet on the battery mount. Dual hot-swappable batteries provide continuous uptime without ever powering down. They are capable of operating simultaneously and independently to provide 2.5 hours of runtime to power the gimbal and a RED Dragon camera. Ronin 2 has an enlarged camera cage and 50mm extendable arms support that DSLRs to full cinematic cameras and lenses. Gimbal motors ensure sufficient torque to handle payloads up to 30 pounds. Aided by onboard GPS, the encoded motors enable Ronin 2 to travel at speeds of up to 75 mph.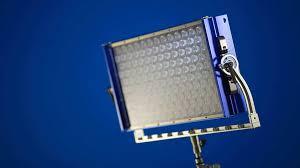 Sometimes smart design takes over, and this was one very well designed lighting instrument. Compact form factor fits into small spaces while still packing a punch! It features a rugged and well built waterproof design, with an IP65 rating which means it can be used in all weather. The color temperature is adjustable from 2700 to 6500K and a CRI/TLCI of greater than 90. The unit draws 80W, yet packs quite the punch. Unlike most bi-color fixtures, the Micro maintains constant power output across the whole CCT range, so users always get the unit's full potential, and there is no reason to have to choose between a bi-color or daylight system. Another key innovation of the Micro is its wide 10-32V operating voltage, allowing users to power the fixture from a single 90WH battery, or directly from a car.
Lastly, If there was one of several themes at this years show HDR was out in front with all major manufacturers and players stepping up to plate. Never mind competing formats. Sony. Panasonic, Blackmagic and AJA just to name a few have jumped into the HDR fray. Most telling was the AJA FS-HDR a converter that answers the bell when facilities want to up convert to HDR. More on that in a moment.
Gotta See it to Believe It…
On first blush some field monitors/recorders caught my attention but for two totally different reasons. First the Atomos 19" Sumo looks like a sure fire winner. With the Atomos lineage to lean on, Sumo is a 19" Field Recorder/Monitor that can playback HDR and act as a simple switcher to boot. The Sumo can capture 12-bit 4K30p as CDNG or 10-bit Apple ProRes / Avid DNxHR up to 4K60p / 2K240p Raw using the SDI outputs of the FS700, Canon C300MKII/C500 or . As with previous models, Atomos are sticking with widely available 2.5″ SSDs that provide an affordable solution for long recording times. Lots of input/output options including XLRs and can be battery powered. Then if you want to, just plunk it on a folding table or cart Sumo into the edit suite/studio to continue to edit. A big wow factor in a supersized package that won't leave clients peering over your shoulder. Small HD was another really nice find as they have a new monitor line that is going to be a bit more manageable size wise and perfectly visible direct sunlight. Designed to add professional monitoring tools to DSLR and mirrorless cameras, the SmallHD FOCUS 5" On-Camera Monitor is bright, lightweight, and features a sharp display.
The 800 cd/m² bright touchscreen 1280 x 720 IPS LCD panel can be viewed in daylight, and is driven by a single micro-HDMI input. Using the intuitive Swipe OS, you can turn on various monitoring tools like waveform, false color, and vectorscope, as well as focusing aids like peaking, with a tap. At the rear of the monitor, a single NP-F battery bay provides power to the monitor, and a power output can also power your camera with a separately available DC coupler. A stand with tilt adjustment is included with the monitor for mounting atop your camera's accessory shoe or on a 1/4"-20 screw.
Perfect fit for the DSLR crowd. Again, It can power the camera and comes with 800 nits of brightness. This is a great advantage when you need to get exteriors or are (again) on location and you have to be able to actually see what you are shooting. (I know, details) Either one of these products would be an excellent addition to your production, again depending on your shoot or overall If you were looking for just a monitor (and a very nice one to boot) the Panasonic TC-65EZ1000U Monitor with HDR and the Boland 4K 4K31-12G stood out. The Panasonic monitor would be very well suited for what I call "client review." Borrowed from the Panasonic consumer division the TC-65EZ1000U will fill the need for a HDR capable monitor that won't break the bank. As a matter of fact Panasonic is positioning this monitor as the go to replacement for aging plasmas. The Boland 4K 4K31-12G is another excellent example of monitor design that is used in a ton of professional applications. If I was to build out a new facility this is the direction I would go in. So lastly although not really a monitor in the truest sense of the word, and not new for NAB the SONY Canvas display is still a stunning example of how to build a video presence. I have to put this in here for just how cool it was along with the fact it was just stunning show stopper, set as the back drop for Sony's main stage right as one walked up to the SONY exhibit. What a way to show off your best work. I think I watched the promo reel at least three times!
In wrapping up part one of the round up, I hope your brain doesn't fall out of your head trying to soak all of this in! Not to worry in our next installment I will be getting to some other cool products. Sennheiser, Movi, GoPro, Miller, Hive, Manfrotto and a few others that will no doubt impress. Plus I am working on a new post NAB feature that is so secret even my bosses don't know about it yet. shhhh! But till then, be sure to check out the excellent 2017 NAB booth visit videos produced by our own Bradford Hill. You will hear directly from the show floor what all the excitement is about.
About the Author
Mark Foley is the Technology Editor for ProductionHUB. He is always on the look out for new products and the people that use them. Got a cool production story? Email Mark at mfoley@productionhub.com.