With just a few weeks to go until NAB Show Las Vegas (April 9th-2th), it's the only show of its kind where will get to see and hear about the latest camera and lens, lighting, edit systems, drones, all the product updates and pretty much every other piece of gear you would ever want to see. Whether it's your first NAB or maybe your 25th, the thing to remember is that planning your show and pacing your show makes for a much better experience. Here is just a preview of some of the lenses of all kinds you'll get to see up close and personal at this year's show.
Carl Zeiss (Booth C3639)
If we're going top shelf, why not start with Zeiss? These lenses are in high demand and for all the reasons you think they would be. The ZEISS CP.3 lenses offer the perfect combination of high image quality and reliable usability. They exhibit the clean, crisp characteristics ZEISS is known for, together with an interchangeable mount system and full-frame coverage. The ZEISS CP.3 XD version features innovative and groundbreaking lens data technology that speed-up and simplify the workflow on set and in post-production. With the ZEISS CP.3 XD lenses, productions on a limited budget gain access to the advanced techniques common in state-of-the-art, films, commercials and television shows.
The ZEISS eXtended Data technology adds new opportunities to simplify and increase the accuracy of the image capture and processing workflow. ZEISS eXtended Data unifies two data sets: key lens data based on the open /i* Technology standard and supported by a wide range of cameras and accessories, plus ZEISS specific lens data that contains precise lens characteristics. We could keep going but let's leave something for you when you get to the booth!
Cooke Optics (Booth C8635)
When legendary lens manufacturer Cooke says they have something new it tends to grab my attention. Long known as one of the kings of the lenses hill, they have such an incredible look. Here are a few of the amazing lenses that you'll see at the show.
Cooke announces new focal lengths for S7/i full frame and Panchro/i Classic ranges and they are going to have S7/i lenses mounted on ARRI ALEXA LF, Sony VENICE and RED Weapon 8K large format cameras. The S7/i purpose-built full frame lens range will include a 16mm, 21mm, 27mm and 65mm, while the Panchro/i Classic will benefit from a 21mm, 27mm, 65mm Macro and 135mm. The Panchro/i Classic 135mm is the first to be completed and will be available for demonstration at NAB 2018. The remaining focal lengths, which are consistent with Cooke's other lens ranges, will all be available by the end of the year.
The S7/i Full Frame Plus lens range is designed from the ground up to cover the full frame cinema camera sensors up to the full sensor area (46.31mm image circle) of the RED Weapon 8K. It is also a great match for the Sony VENICE full frame digital motion picture camera system and the new ARRI ALEXA LF large format camera system. All three full frame cameras will feature on the Cooke booth mounted with S7/i lenses to allow cinematographers to test this emerging format.
The S7/i lens range
The Panchro/i Classic prime lenses, which offer a vintage look with modern housing, as well as the flagship S4/i prime lens range, Anamorphic/i and Anamorphic/i SF ("Special Flair") lenses, and miniS4/i range will also be available to view in the NAB booth.
The Panchro/i Classic prime lens range
Sigma (Booth C10308)
Sigma will introduce its new 14-24mm F2.8 DG HSM Art wide aperture zoom lens at the 2018 NAB Show. Designed for 50-megapixel plus cameras, the Sigma 14-24mm F2.8 DG HSM Art lens produces sharpness with three FLD glass elements, three SLD glass elements and three aspherical lens elements, one of which is 80mm high precision molded glass.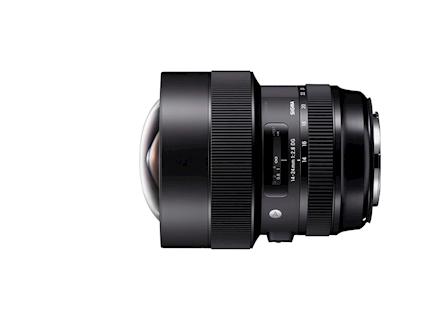 With less than 1 percent distortion and minimal transverse chromatic aberration, flare and ghosting, the new lens offers constant F2.8 brightness throughout the zoom range, accurate, high-speed autofocus and quality imaging at every focal length and distance. The rugged lens works with Sigma's MC-11 Sony E-mount converter and supports Canon, Nikon and Sigma mounts.
Rokinon (Booth C12629)
Rokinon will be introducing several new lenses at this year. New Lenses include:
XEEN 16mm T2.6
XEEN 20mm T1.9
Rokinon SP 14mm F2.4
Rokinon SP 85mm F1.2
Rokinon Cine DS 20mm T1.9
Rokinon Auto Focus 50mm f1.4 & 14mm f2.8
The new Rokinon SP 85mm F1.2 and Rokinon SP 14mm F2.4 lenses provide image quality for 50 megapixels photo and 8K video productions with low light, bokeh, and selective focus capabilities. Rokinon will also be showing the Autofocus 50mm F1.4 Full Frame which according to Rokinon, is the fastest most affordable lens in its class while the new Rokinon Autofocus 14mm F2.8 Full Frame ultra-wide prime is the widest lens in its class.
Fujinon/Fujifilm (Booth C7225)
The latest entry in the company's Premier UA Series of 4K 2/3" lenses, the UA24x7.8 from the Optical Devices Division of Fujifilm will make its NAB debut, along with the new Fujifilm X-H1 camera and MKX from the company's Electronic Imaging Division.
A second new UA Series lens will be introduced closer to the show as well. Thanks to the growing popularity of the recently introduced Fujinon MK lenses, camera and lens support providers now offer a range of solutions to benefit MK lens owners and broaden their compatibility with additional camera mounts. MK Series lenses are currently designed for E-mount cameras with the Super 35mm/APS-C sensor and boast advanced optical performance, ultra-compact and lightweight design.
Among those with new gear for the Fujinon MK Series are lens control, accessory manufacturers and service providers: Heden, Chrosziel, Bright Tangerine and Zacuto. Also on hand will be the new Duclos-Musashi 1.7x expander, which enables FUJINON Cabrio and Premier Series Super 35mm zooms to be used on the latest larger sensor cameras, such as Sony's Venice, RED's Vista Vision 8K and ARRI Alexa LF.
Band Pro (Booth C10618)
I have to admit, I am chomping at the bit to see the new 60mm Raptor macro prime lens. This year Band Pro will feature live hands-on workstations with the new Sony VENICE, Red MONSTRO, Canon C700, and Panasonic VariCam LT cameras; as well as a selection of the latest S35 and full frame lenses and lens accessories from Angenieux, Leica and IB/E Optics.
Featured products this year will also include the new Movcam MSU lens control system (available in single and 3-channel configurations), which provides both ENG-style and remote operation flexibility for Angenieux Type-EZ zooms. German lens manufacturer IB/E Optics, together with Band Pro's Munich office, will showcase the latest offerings from the Raptor macro lens line, including the Velociter, S35x8K Expander and the new 60mm Raptor macro prime lens. Also on hand will be the fully redesigned professional dolly line by Italian manufacturer Cinetech.
What's Next?
More gear of course. Some more lens, of course, a special look at our friends at AbleCine and we'll be looking at a myriad of new cameras, lighting, audio and some tripods as well. I'll also be revisiting some of my time-tested survival tricks that have kept me going throughout the course of a couple of dozen NAB shows.
Lastly, if you (yes you) hear or see something that is new, cool, or just plain fun let me know! I can be reached via email. Be sure to check us our on social media as well on NABHUB for frequent updates. Or even better, come see us in the Central Hall Booth C12129. This is going to be a blast!