By Mark Foley, MBA, BA, Technology Editor, ProductionHUB
As a producer/director/shooter I'm always looking for the best way to maximize the investment of time and money. When it comes to purchasing and getting new gear into the production flow you need to do your homework. Listed below is but a few of the thousands of camera support products that are out there. But hey, that's why we're here! The trick is to choose the right gear to stay within your budget and still come out with outstanding content. Easier said than done. But here is the good news. Getting new gear doesn't have to break the bank, and if you play your cards right, new gear can even pay for itself over time. So with that said lets' check out some of the latest camera support gear and rigs that will take your production values to the next level.

Miller arrow X series/arrow X 5 (List Price $3,271.83)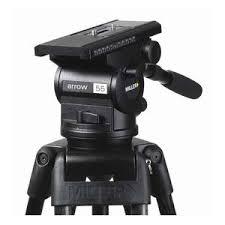 I think somewhere along the line some shooters just plain forgot how valuable owning a great fluid head and good sticks can be. I can even remember arguing with my production manager Leon about having to bring a tripod to every shoot. What was the point? Well, hate to say it but he was right. Sometimes you are just better off with a great camera support system then just your shoulder. So as far as some of the best camera support systems go, who is out there and what should you look for? I look at how much a fluid head/tripod system weighs. How is it built? Is it sturdy and will it take a beating on the road? Think about this if you will. Remember way back when? I had a Vinton Vision 5 that I just beat the crap out of. But it always came back for more. Durability counts for something here don't you think? One choice that deserves a look is the new Miller arrow X Series. Miller took a long look at market dynamics and saw that as some cameras got smaller they had to adapt. My own personal choice for a new fluid head from Miller would be the arrow X 5. Why? Miller's CB PLUS, a sequential counterbalance design is a key factor. CB PLUS features eight large counterbalance steps, allowing the user (like me) to get to their needed position quickly. The CB Plus switch adds a half step enabling counterbalance refinement. The X 5 can support up to 46.2 lbs. Intuitive to set up and use with a 120mm sliding plate and 16 positions of counterbalance, the Miller arrow X5 fluid head is a keeper.

Sachtler 18 S2 Fluid Head (List price$4,950)
Next up is the new Sachtler Video 18 S2 Fluid Head. Sachtler states the weight range of the S2 model has increased, and can now accept payloads ranging from a DSLR rig at four pounds to a full digital cinema setup weighing 44 pounds. Some familiar features brought over from the previous design include the 16-step counterbalance with a boost switch, seven-step fluid drag for both pan and tilt axes.

ENG 75/2 D HD Tripod (List price $981)
Sachtler's new ENG 75/2 D HD tripod supports a wide payload range up to 77.2 pounds and can accommodate with a large 75 mm bowl. The new aluminum tripod weighs 6.8 pounds. That is pretty darn important if you are the one schlepping the camera all day. It also has optional ground and mid spreader versions. The ENG 75/2 D HD is considered to be a companion for Sachtler's range of FSB fluid heads, such as the FSB 6 and FSB 8, which are designed for DSLR and HDV camcorders.

Glidecam XR-Pro (List price $289)
Next on our must have list is the Glidecam XR-Pro Introduced at the 2016 NAB Show. The Glidecam XR-Pro is a rig I would throw in the truck and bring to every shoot. If I am shooting a Canon or DSLR this is what I want. Fast, flexible, and good to go. I like the fact that the XR-Pro comes with four steel camera platform weight plates that enables the use of very light cameras that allows for a wide camera weight support range. The XR-Pro has a new head design, which has a customized bottom plate that allows for more accurate side-to-side movement to ease the set-up process. If I were shooting a smaller set up and want to add motion or jazz up the shot, the XR-Pro would be a solid choice.

ARRI TRINITY (Pricing TBA)

At NAB 2016 ARRI announced the purchase of the Artemis Trinity from Sachtler/Vitec. The stabilization system combines a 2-axis gimbal on an outrigger with a traditional Steadicam-like harness. Has to be one of the coolest rigs I have seen in a very long time, though NOT for the faint of heart. In two words, very, very cool. Ok, that was three. The Trinity provides complete camera support and flexibility. I like how the operators can config the unit to each shooting situation, including just going with the separate halo. With an articulating arm and rotating head one could be ready to pull off some amazing shots. This could be the ultimate cinematographers rig that I sure will get crazy good shots. With full camera support of up to 66lbs. I better get back to the gym. I also think I know what I am going to ask for Christmas.
Zacuto Sony FS7 Recoil Bundle (List $3300)

Ok, so I was just all over the I gotta have great sticks and tripod head, to make great shots comments earlier, but sometimes when you are the camera guy you just gotta move your butt. Even as I was running camera on the NFL sidelines you bet I knew when it was time to get the heck outta the way, but of course my director still wanted the shot…Ha! The Zacuto Sony FS7 Bundle can help you do just that with a VCT Universal baseplate, the Rosette Minimount for the Sony FS7 handgrip, and Axis Mini for the F7, which can be used with either the Gratical HD or the Sony monitor. The Recoil rig is designed for good balance and comfort when shoulder mounted or on a tripod. With lenses and cameras being similar weights, the balance point is where the lens meets the camera body. In a Zacuto Recoil rig, the balance point needs to be directly over your shoulder, which then puts the camera behind you. Which is an interesting point. Any shooter who has been around for a while will recall that most, if not all rig set ups were just like this back in the day. Camera behind, controls up front. This puts focus, monitoring and camera controls to the front. Meaning that no matter how your camera was "weighted" you could find a good balance point. I also like the fact that this comes in a nice complete package specific for the Sony FS7, a very popular mid range camera, but a ton of camera model needs are also addressed by Zacuto.

Redrock Micro One Man Band (List $2450)
These guys make some great gear. Too bad I can't get to all of it but here are two sure fire pieces of Redrock Micro gear and accessories to make your day. This is a solid remote camera tracking system that puts you in control of the camera with handy remote or phone app. You can run your camera while controlling the other shot. A really big bang for the buck!

microMatteBox Clamp-On Bundle 2-Stage (List $1008)
The microMatteBox attaches directly to your camera's lens. This is great if you want or need a Matte Box but just can't deal with rails and a baseplate. This is great when you using a zoom lens but still want the look/feel of a matte box. microMatteBox Clamp-On Bundle 2-Stage features two 4x5.65 filter stages, one fixed and one fully rotatable. The bundle also includes 4x4 inserts that allow you to use 4x4 filters without worrying about light leaks. This would be the Matte Box to have in your shooting kit.

Shape ISEE+ (List $1100)
The ISEE+, a 2-axis stabilizer designed for DSLR and mirrorless cameras. The ISEE+ has a payload of three lbs, so it's not designed for bigger cameras, but it you need to capture some great action shots with and all you have is your trusty DSLR, this just might be the ticket.

Lastly, I'm sure these last three bad boys could be in a category all their own but I just had to get them in here, somewhere.
Atomos Shogun Inferno, Video Devices PIX-E7, and the Blackmagic Design Video Assist.
All three are field recorder/outboard video monitors with some great features built in. This is the stuff that shooters want: Flexibility, affordability, and confidence when shooting. The ability to see and make critical set up choices in 4K pushes on set recording and monitoring to a whole new level.

With these twelve products, I barely have scratched the surface on a ton of great stuff to add into any production mix. I really could go on and on about all the great rigs and support devices out there. Ultimately, you will have to choose the gear that you think will make you money and that works best for you. Till next time, be safe and good shooting.
Image courtesy of Orlando Visual Films.