Locking down the right location is key. More than just a backdrop, it can be the deciding factor in bringing your vision to life. That's why we asked our friends at Peerspace, an online marketplace, to share some of their most popular production locations on the platform. From independent photographers to agency creatives, they share which spaces are most loved among the production industry.
Ranging from sunlit studios to midcentury modern homes, check out these unique hidden gem locations to unlock your creativity.
Midcentury Haven for Creatives
Location: Beverly Hills, LA
Nestled in the treetops of Benedict Canyon is a beautifully restored, spacious Mid-Century home. The space is loved for its eclectic interior and 1600 square foot scenic terrace, perfect for outdoor shoots.
Location: Lower Manhattan
This classic New York-styled loft is nestled in the heart of Chinatown. With ten panoramic windows and two sky lights, this 1500 square feet space is flooded with natural light to make your subject shine.
Location: Central LA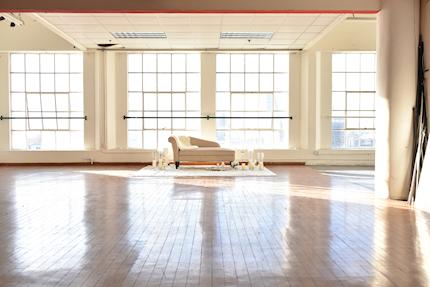 This penthouse studio is best seen in person to give it justice. It is a stunning 4,800 sq. ft floor plan, featuring polished concrete floors and a semi open layout with an abundance of natural mid-day and sunset light.
Location: Midtown, New York
Breathe life into your shoot in this bright, sunny, Chelsea loft. The spaces includes fun accents such as plants, comfy couches, and a swing, making this the perfect background for any production.
Soho Townhouse with Rooftop Views
Location: Soho, Manhattan
This four story townhouse is sleekly styled with an open-plan living area and fireplace opening up into the 100 feet deep private back yard (one of the biggest in Soho).
Location Lower Manhattan
Designed by an interior designer, this "tropical island in the sky" is great for a bohemian flare. Her space offers an escape from the madness of Manhattan with its bohemian decor and earthy tones perfect for creative moments.
Open Loft-Style Versatile Studio
Location: Oakland, California
This space is large versatile shooting studio offering diverse backdrops. Designed for flexible shooting needs, this space also offers a backdrop of aged brick for a loft-like look, as well as a classic white panelled room with daylight.
Location: Lower Manhattan, New york
This beautiful pre-war building with two decorative fireplaces offers a unique location to bring your vision to life.
Location: Central LA, Los Angeles
Feel like you're shooting in the Hamptons in this sunny and bright estate. Only a year old, the stunning 5,200 square foot home has a heated pool, jacuzzi, and high-end furniture to elevate your shoot.
Modern Home in the Hollywood Hills
Location: Studio City, Los Angeles
Walls of glass covering the entire back portion of the home offer immense natural light and unobstructed 180 degree views of the city and mountains.
Location: Central Los Angeles, Los Angeles
This eclectic warehouse offers a funky background to any shoot. Plus, five percent of their proceeds go to support Justice Rising International and the work they do to build schools in war and conflict zones around the world.