by Zach Hellmuth


Spent: Looking for Change
, from Academy Award-winning executive producer Davis Guggenheim (An Inconvenient Truth, Waiting for Superman) and cinematographer Greg Ephraim (All Cheerleaders Die) premiered online on The Young Turks' YouTube and Hulu channels. The film was shot by Ephraim on the Canon C300 and the EF and cinema lenses; the camera's small profile and ease-of-use helped the filmmakers capture an intimate look into the lives of four American families wrestling with the costs of living outside the traditional financial system. Greg Ephraim takes us behind the scenes on his film-making experience on the documentary.
Sponsored by American Express and narrated by Tyler Perry, the film follows four families who rely on check-cashing services, pawn shops and payday lenders and spend up to 10% of their income in financial fees. It puts a spotlight on an important issue that impacts one in four U.S. households who are not well served by the traditional banking system and rely instead on services like check cashers, payday lenders and pawn shops to meet basic financial needs. The costs for these services can add up, with the average underserved household spending 10% of their income on fees, the same as the typical American family spends on groceries.
* Why did you want to be a part of the creation of this documentary?
I really enjoy working with director Derek Doneen, so whenever I get the opportunity to shoot for him I am thrilled, he always chooses projects that have an important message to them, and as a bonus- he's a great guy.
* Why did you choose the C300 to shoot with on this project?
I love the C300 as a documentary camera, its comfortable to shoot in any situation/position in a convenient matter, which on a documentary is very important, and it is very nice to know that the image is forgiving in latitude and in low light situations.
* What other production equipment did you use on the film that was crucial for its success?
Really the camera and lenses were most important for this project, these stories are told all through the lens, and little moments captured help shape these stories as well, to have a reliable camera to be able to capture those moments is crucial.
* What tip(s) would you offer someone who is creating their first documentary? (Something you wish someone told you when you first started in this industry.)
My advice, for anyone shooting a doc, would be think small and shoot big. Learn to use and shape natural light. I found that as a DP you always want to light everything, but in these moments of setting up, you always miss a goldmine of material that could have been captured. In a documentary, when you have to sacrifice complete control of light, composition is king.
* Did any challenges arise while filming? If so, what were they?
The only challenges we ran into was scheduling, we are invading peoples lives essentially, and working around their schedule (which some have very hectic and unpredictable schedules) always keeps you on your toes and ready to leave a location at a moments notice.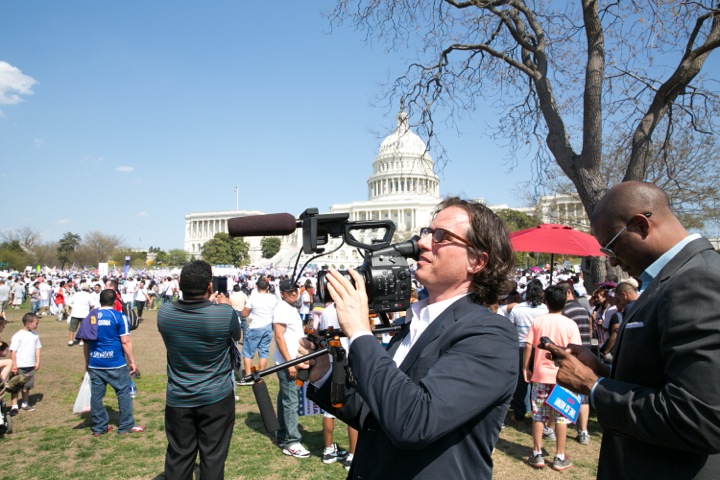 * What do you hope the audience will take away from this doc after they view it?
My hope is that a conversation can be started about this topic, it's a very important one that has had little to no attention, and in order to get it fixed, people need to start talking about it, and hopefully this documentary is a good conversation starter.
* Anything else you would like to share? Do you have another project in the works you can discuss?
Yeah, go watch it! Share, discuss, debate- even if you agree or disagree. My next project is a feature film shooting in July in Northern California, focusing around a group of teenagers who have to deal teen suicide, pressure, and tragedy.
The film will remain online for free, providing anyone the opportunity to watch, engage in conversation, and help spread awareness. It is also posted on American Express' YouTube channel and at
SpentMovie.com
. You may view the trailer on YouTube
HERE
.