2014 ProHUB Awards of Excellence: NAB Edition
Have You Voted Yet?
Vote Now on NABHUB! (Deadline is April 3rd!)

You can now vote on the "best of" manufacturers, recognizing companies for their innovation and improvement to the industry for the upcoming NAB Show in Las Vegas. It's free to vote, so please feel free to share with your contacts. VOTE HERE

---
See the world's first Ultra HD production switcher as part of a complete Ultra HD workflow
NAB 2014 Booth #SL219
Blackmagic Design will be demonstrating a range of products for video and film professionals including the ATEM Production Studio 4K, the high resolution Super 35 Blackmagic Production Camera 4K, Blackmagic Audio Monitor, ATEM Studio Converter with 6G-­SDI support, HyperDeck Studio Pro broadcast deck with 6G-­SDI for Ultra HD recording and playback. Plus UltraStudio 4K and DeckLink 4K Extreme for Ultra HD capture and playback will be on show!
Also on display will be the Blackmagic Pocket Cinema Camera featuring a Super 16 sized 1080HD sensor and 13 stops of dynamic range.
Learn more today at www.blackmagicdesign.com
---
Hot Networking Events & Parties in Vegas
ProductionHUB Happy Hours: Monday 4/7-Wednesday 4/9 from 4-6pm at booth #C12130. Trust us, we're worth the gamble.
Join us at booth #C12130 for our annual happy hours & networking opportunities for industry professionals across the nation.

Other Networking/Parties to Attend while at NAB:

*
Showstoppers at NAB 4/6
*
Content Creators Party 4/6
*
NAB Show Opening Party 4/7
* ProHUB Happy Hour 4/7
* ProHUB Happy Hour 4/8
*
Las Vegas SuperMeet 4/8
* ProHUB Happy Hour 4/9
*
NAB Show Closing Party 4/10
---
Zeiss to Showcase Four New Cine Lenses
NAB Booth C9042
The 2014 NAB Show is just within reach. In hall C at booth #9042, ZEISS will show four new cine lenses for the first time in North America: three ARRI/ZEISS Master Anamorphics as well as the Compact Zoom CZ.2 15-30/T2.9. Visitors to the booth will of course be able to try out these lenses. Visitors will also have the chance to interact with ZEISS, ask questions and provide feedback about our products.
DOPs August Bradley and Den Lennie will be at the ZEISS booth to answer your questions and share their experiences about ZEISS lenses and their work. www.zeiss.com/cine

---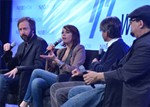 * NAB Show Opening
Monday, April 7
9:00 am - 10:15 am
Location: LVH Paradise


* In Depth: How After Effects is Used in Commercials & Promos
Tuesday, April 8
10:00 am - 1:00 pm
Location: N252
* 4K: A Strategic Approach
Tuesday, April 8
4:00 pm - 4:30 pm
Location: S227
* Advanced Video Technologies -- Visions of the Future
Wednesday, April 9
10:30 am - 12:00 pm
Location: S222
---
Avid Media Composer 7
Are you still editing with Final Cut Pro but looking forward to NAB to help you decide what to use next? Now is the time to make the switch to Avid Media Composer 7.
Click here to learn why
and use coupon code FCP2MC for $50 off at
Videoguys.com
.
---
How to Get Through the Show in One Piece
We've been attending NAB for the past 15 years. We are those exhibitors who come year after year because, well, we just can't get enough. Learn how to make the most out of your trip and ensure you leave Vegas feeling even more savvy than when you arrived.
—[ Read Survival Guide HERE ]—
---
Post-SXSW Highlights & News
* The Austin 100: A SXSW 2014 Mix

* SXSW 2014: Five things we learned

* Two Dead, 23 Injured at SXSW

* We Taste-Tested the 3D-Printed Oreo Cookies at SXSW
---