Out of the 1500+ booths in the vigorous exhibition, ProductionHUB would like to congratulate the inaugural winners of the 2014 Awards of Excellence at the NAB Show:

---
Keep Your Production Fresh w/ Audio Network
Recorded by Grammy Award winning composers,
Audio Network
's catalogue of over 70,000 original tracks is pre-cleared for multiple-platforms and territories forever.
Adding over 1,000 new tracks per month, they provide you with the hottest music to keep your productions fresh. From the latest trends in
Hip Hop
to
Nu Indie
and
Orchestral
they've got sounds to bring any production to life.
See them at the NAB Show, #SL9327 to learn more and to win a trip to Abbey Road Studios.
---
AJA Video Systems announced CION, an entirely new professional camera. CION features an ergonomic design and is capable of shooting at 4K/UltraHD and 2K/HD resolutions.

—[ Learn More ]—
---
Zeiss to Showcase Four New Cine Lenses
NAB Booth C9042
The 2014 NAB Show i here. In hall C at booth #9042, ZEISS will show four new cine lenses for the first time in North America: three ARRI/ZEISS Master Anamorphics as well as the Compact Zoom CZ.2 15-30/T2.9. Visitors to the booth will of course be able to try out these lenses. Visitors will also have the chance to interact with ZEISS, ask questions and provide feedback about our products.
DOPs August Bradley and Den Lennie will be at the ZEISS booth to answer your questions and share their experiences about ZEISS lenses and their work. www.zeiss.com/cine
---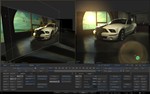 Autodesk Inc. is debuting Flame 2015, the latest iteration of its comprehensive toolset for high-end visual effects and creative finishing - with new creative tools, faster performance, and an end-to-end 4K workflow.
—[ Learn More ]—
---
Provides 12-bit 4:4:4 AVC-ULTRA Acquisition for Field Mastering and Archiving, Plus Efficient 4:2:2 10-Bit Recording For Documentaries and Sports; Innovative Modular Design Allows Cameras to Dock with Common Recording Module
—[ Learn More ]—
---
Every year at NAB, AbelCine brings you a selection of the very best cameras, optics, accessories and solutions that our industry offers. Here's what they'll be featuring at their booth this week.
—[ Learn More ]—
---
CINE-SERVO 17-120mm T2.95 Zoom Lens Features 4K Optical Performance, a Dynamic 17-120mm Focal Length Range, and Removable Digital Drive Unit for Cine-Style or Shoulder-Mounted Operation
—[ Learn More ]—
---
---